Ever since I remember myself, I had a desire to cure people as a therapist, but the road to the dream is never quite straight, right? About three years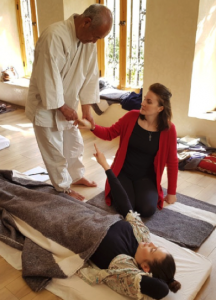 ago my interest to oriental medicine and philosophy, as well as to Japanese Shiatsu therapy has taken over and I started my second bachelor's degree at Iokai Shiatsu school of Amsterdam. While working full time at a big corporation, I'm passionately carving out time for studies during evenings and weekends and even substituting some holidays' time with seminars.
At school we learn how to locate the meridians, the energy pathways of the body, how to relax, meditate and be calm and present, to zoom out from oneself to help your body heal. During the full course, we spend more than 200 hours learning theory and practice from the masters of Shiatsu.
Raising energy levels to the point of positive thinking, doing good to others, helping our planet and bodies heal – this is what interests me most.
Looking ahead, after the graduation, I envision myself contributing to creation of an integrative medicine of the future, where traditional Western and Eastern medical knowledge will combine the best of both worlds in a new approach to holistic health.