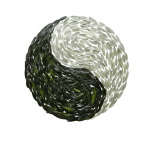 A shiatsu treatment is given on the floor, on a futon (a Japanese mattress). Shiatsu is given through clothing (preferably cotton clothing).
It is wise not to eat too much before the treatment and to rest yourself after the treatment
During the treatment, pressure is exerted on the body with the thumbs, hands, elbows and knees.Every treatment starts with making a diagnosis, by asking questions about the main complaint and any additional side complaints.
A treatment lasts about an hour.